The connected professional system O'Dive Pro is appointed as Recommended Practice by TOTAL in its October Diving Safety Flash safety bulletin
This recognition is the result of ongoing efforts by Azoth Systems and TOTAL to improve the safety of professional divers.
The O'Dive Pro service allows diving and construction professionals to control the level of adaptation of decompression procedures to their users in their actual working and environmental conditions.
A collective summary reporting on the level of adequacy of the procedures to the operators is regularly updated on a server. This information can be used – if necessary – to increase the conservatism of the procedures.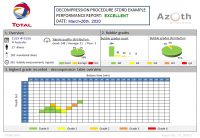 Format of the periodic report
O'Dive PRO is part of a proactive approach to control and improve decompression procedures and the safety of operators.