Our scientific director Julien Hugon is currently in Moorea with the team Under The Pole. The objective of the Capsule mission is the realization of saturation dives in the zone from 20 to 35 meters deep.
Here is the return of Julien H. after the first saturation dive:
"A week since I arrived in Moorea, Opunohu Bay, I joined the team, found the schooner WHY (after 3 weeks already spent during my visit to Greenland in 2014), took all the necessary bearings to participate to group life according to the rules imposed. There are about 25 people who live at the Life Base.
The first saturation of 3 days, involving 3 divers including Ghislain Bardout (the co-founder of Under The Pole expeditions), began Wednesday 25/09. The internal environment of the Capsule is monitored and the information is sent back to the Life Base in real time. A global sound / image communication system has been set up to communicate with divers and ensure their condition.
The atmosphere of the Capsule: a Heliox mix. The depth: 20m."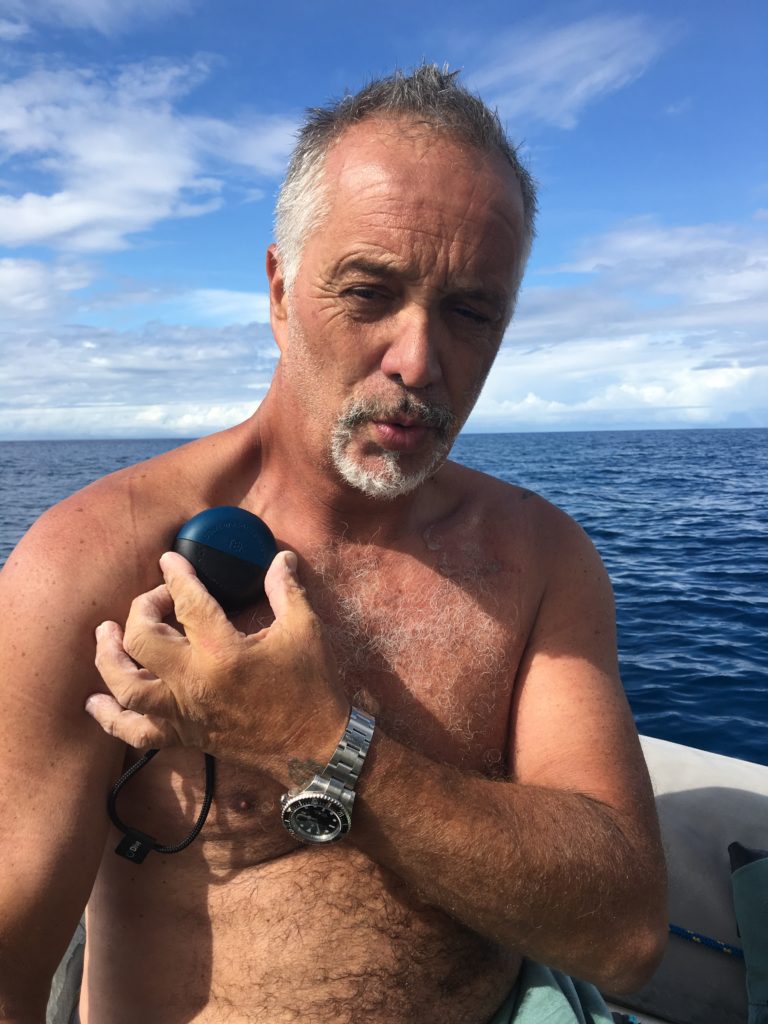 "Two daily excursions of about 2h were done in the environment of the Capsule up to 35m and I had the chance to dive 2h around the Capsule and watch them evolve in and out of the Capsule during an excursion.
Maximum excursions depths were defined together with Bernard Gardette.
The final decompression procedure was also subject to numerous consultations to achieve the best compromise safety vis-à-vis the operational constraints."
On the left, Aldo Ferrucci – dive director of the program – monitoring himself with our O'Dive sensor.
"The divers surfaced Saturday 28/09 at 3:20 pm. Measurements of bubbles, made at Tsurf + 15min, Tsurf + 50min and Tsurf + 100min showed a good quality of decompression, which is reassuring for the future."