Here is an English translation of the original Italian article.
When it comes to decompression, it should be assumed that we are not all the same.
With the proliferation of new dive computers and the prevalence of the Bühlmann ZH-L16C algorithm with gradient factors, a de facto standard has been established between the various decompression models. If implemented correctly, computers from different manufacturers, such as the Mares Genius, Shearwater, OSTC or Garmin, will provide the same results. The maximum time at a given depth can vary considerably depending on the settings we have chosen. But it will still be common between computers set in the same way.
The importance of gradient factors
Decompression sickness cases often occur despite the fact that the diver has faithfully performed the stops indicated by the computer algorithm. For this reason, they are referred to as 'undeserved'.
These accidents could easily be explained by considering that, however accepted a standard may be, even the Bühlmann ZH-L16C is only a mathematical approximation of the physical and physiological events of the human body during a dive.
And it is not possible to reduce the whole of humanity to a single set of parameters for a dive computer. This is why gradient factors have proved so useful. Because they allow individual customization of the mathematical model.
If you want detailed information on decompression models and the use of gradient factors, you can click here
But how can one come to define the appropriate gradient factors for his own physiology?
This is the question raised by Azoth Systems, an engineering and service company specializing in hyperbaric exposure safety. It consists of 7 engineers, scientists, and researchers from the fields of professional and military diving, the space industry and hyperbaric medicine.

To address this, it has developed and produced O'Dive, the first connected sensor for customizing diving procedures, which couples statistical decompression analysis, based on a risk law supported by a vast database, with Doppler ultrasound bubble detection. The aim is to improve diver safety by helping them to adjust their decompression and thus progressively lower their risk in the face of bubble formation. O'Dive allows divers to measure the quality of their decompression on the basis of an analysis of their dive profile combined with the results of post-dive bubble measurements through subclavian Doppler monitoring. The approach is complementary to that proposed by the dive computer software or decompression tables.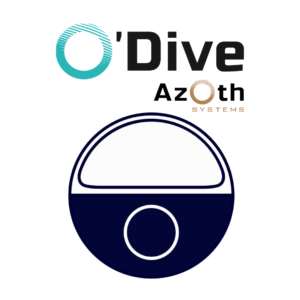 How I came into contact with the O'Dive world
I have to thank YouTube, which suggested a video that 'might interest me'. I must also thank my feline curiosity, because I decided to watch it. That is how I came across this curious story and at the same time potentially harbinger of important news for the world diving scene.
So, thanks to the contribution and immediate availability of Didier Draguiev, Sales & Marketing Director of Azoth Systems, I entered the O'Dive world. And I discovered that this technology is the result of decades of study and research, and consists of an automated and easy-to-use ultrasonic sensor. It can detect the presence of inert gas microbubbles when placed under the left and right clavicles. Subclavian signals are much cleaner than precordial ones.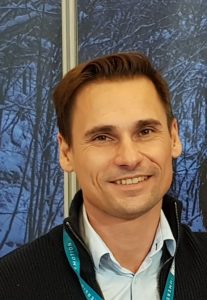 Didier Draguiev, Sales & Marketing director Azoth Systems
The collaboration between DAN Europe and Azoth Systems
Cristian Pellegrini, Head of Marketing & Communications at DAN Europe, told me that the partnership with O'Dive began over a year ago, just before the COVID lockdown forced us to stay confined.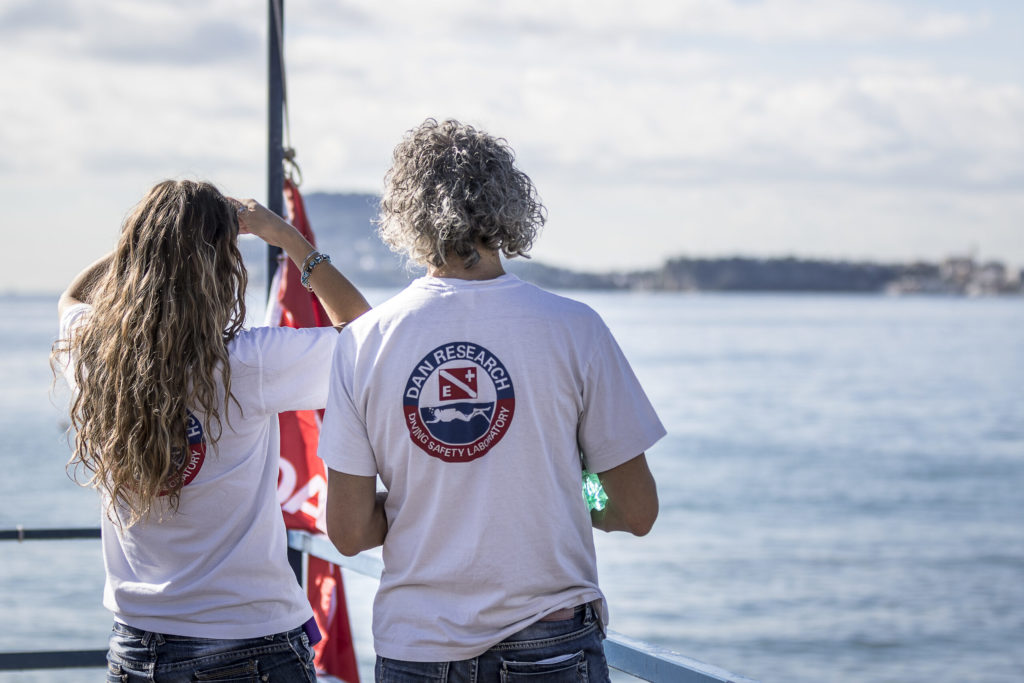 'DAN's medical-scientific foundation invests a significant portion of its proceeds in research and O'Dive has proved to be an excellent tool for bubble detection. It is useful for conducting new scientific studies to reduce the formation of these bubbles in decompression profiles.'
For Axel Barbaud, the founder of Azoth Systems: 'Azoth Systems' mission is to improve diver safety. The idea of a partnership with DAN was therefore natural. O'Dive, which concentrates 12 years of research work by Azoth Systems, including the analysis of tens of thousands of dives, is already helping to optimize the safety of more than 1,700 divers worldwide. O'Dive also represents a paradigm shift, accelerating research advances and enabling their implementation in regular software updates for the benefit of diver safety.'
DAN Europe's research work is based on its own dive analysis methodology that requires knowledge of the underwater world. DAN Europe, which is a pioneer in field data collection and has an extensive and historically recognized knowledge of scientific field data collection, has great potential to open up and accelerate this new shift in knowledge.  The integration between the two and their huge database can really create a new momentum for research and for our safety.
Why detection under the clavicle?
Precordial Doppler analysis requires training for the person conducting it to be able to record a good quality signal. The Doppler is a sound signal that is strongly interfered with by heart sounds. The subclavian monitoring, i.e. under the collarbone, proposed by the O'Dive system, can be called an advanced technology because of the ease with which the correct positioning can be found. It provides us with an extremely useful added value. Through its research, Azoth Systems also demonstrated that bubbles detected at the subclavian level correlated better with DCS risk than those detected at the precordial level.
If you want to learn more about this topic you can click here.
Massimo Pieri, European research area supervisor and data collection coordinator at Dan Europe, explains.
'Bubbles are defined as an index of decompression stress. We can say that a procedure that does not generate bubbles can be considered as a good quality procedure, at least much better than a procedure that generates many bubbles. Consequently, the common goal for all divers is to dive with low-risk profiles, with few or no bubbles. Two different competences have taken a step forward together to provide divers with quick feedback. We are working with them to join their efforts to create a simple and intuitive device that can provide divers with common information, with a huge effort to deliver concrete results.'
'Synergies are the future', Max concludes. 'Doing everything alone is impossible. You have to work together with each other by combining economic and technological efforts. In order to help divers go underwater with more fun and more safety.'
The waterproof case contains the O'Dive sensor with a wireless charger and ultrasound gel. By downloading the O'Dive app to your smartphone you can create a personal account.
The first step in the process is to take two Doppler readings after the dive. Each should be taken at the level of the subclavian veins, first on the left and then on the right sides. The measurements last 20 seconds each. For helium and rebreather dives, it is recommended to take the first measurement immediately after the dive, or as soon as possible, say within half an hour, and the second measurement 30 minutes later. For air or nitrox dives, measurements should be taken 30 minutes after surfacing and then 30 minutes later. The goal is to capture post-dive VGE levels at their peak.
The sensor, which pairs with the app via Wi-Fi, is shaped like a hockey puck with a groove designed to fit snugly around the collarbone. The graphic display in the app lets you know if the sensor's positioning is correct. Once the signal is confirmed, the app directs the diver to inhale and exhale for 20 seconds while the sensor records. When the measurement is complete, it directs the diver to repeat the operation on the right side.
A notification also reminds you when it is time for the second measurement.
Once the two readings are taken, the data is synchronized and uploaded together with the dive profile imported from the dive computer. The app currently communicates with Shearwater, Suunto and Mares Genius dive computers. Alternatively, you can manually fill in the maximum depth, dive duration and gases used. In this case, however, the evaluation linked to profile interpretation is degraded.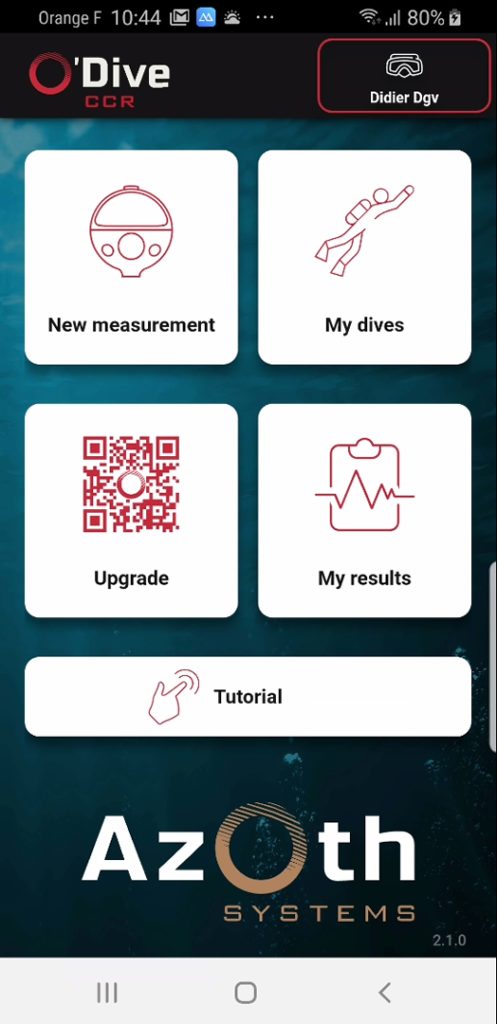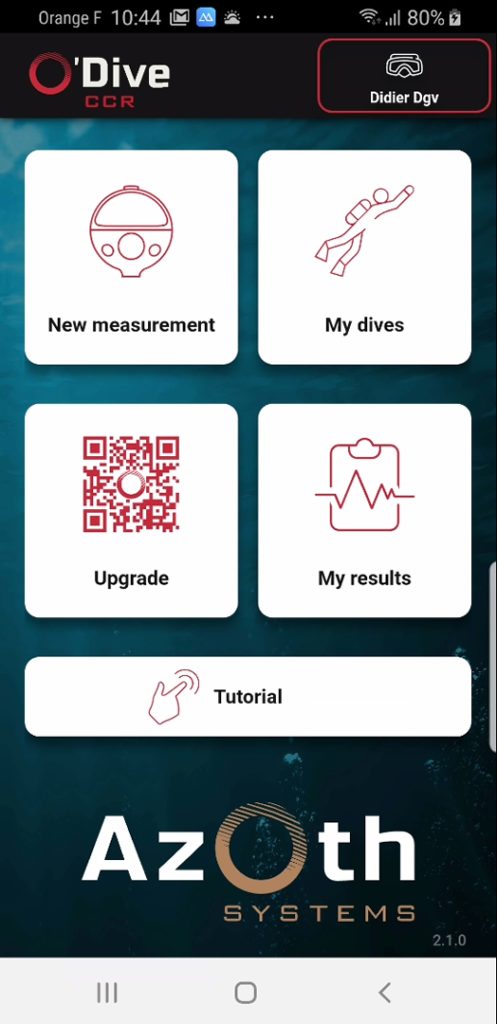 'The communication between the app and the dive computer is via Bluetooth," explains Sergio Angelini, Mares' Director of research and development. 'The communication is specific to the dive computer and is the result of collaboration between Azoth Systems and the manufacturer. In addition to the profile, the app also reads the settings the diver has set for the dive. In particular, the gases used and the gradient factors.'
In no time at all, Azoth's servers perform an analysis of the dive data and calculate a decompression quality index, consisting of a component linked to the profile itself (so-called severity component) and one linked to the quantity of bubbles measured (bubble component).
A customized simulator allows the diver to understand how to improve his decompression for future dives by adjusting his dive settings.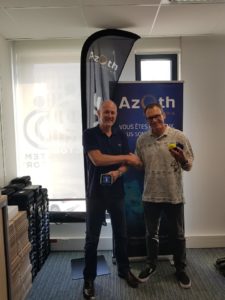 Axel Barbaud, CEO and founder of Azoth Systems
and Sergio Angelini, Mares' Director of R&D
How to improve one's decompression?
The customized simulator allows you to assess how the outcome changes as gradient factors change. With an empirical process that takes a few dives, one can find the combination of gradient factors that best suits him and his type of diving.
Because, as Sergio Angelini reminds me, 'the Bühlmann ZH-L16C algorithm is a 'linear' model, whereas the human body's response to hyperbaric exposure is not linear, especially when you are far away from the curve. Gradient factors compensate for this shortcoming, but the question remains of determining the appropriate gradient factors for your own physiology.'
'O'Dive measures the presence of bubbles. Their presence in itself is not a precise and unequivocal sign of upcoming decompression sickness. Some bubbles are inevitable and there are individuals who produce more of them than others. And above all, there are people who tolerate them better than others. But undoubtedly the fewer bubbles the better. So if, through O'Dive, we find out that our blood contains a lot of bubbles after a dive, we should consider reducing them by adjusting gradient factors or choosing gases with less inert component. When we get to the point where we have few, if any, bubbles, we can be satisfied with the configuration we have achieved for that type of dive.'
These results will be slightly different from day to day. We are not machines but complex physiological circuits that change depending on factors such as sleep quality, hydration, stress and more.
O'Dive is not the absolute solution, but the most useful tool to find out what is going on in our bodies. And the best tool to protect ourselves.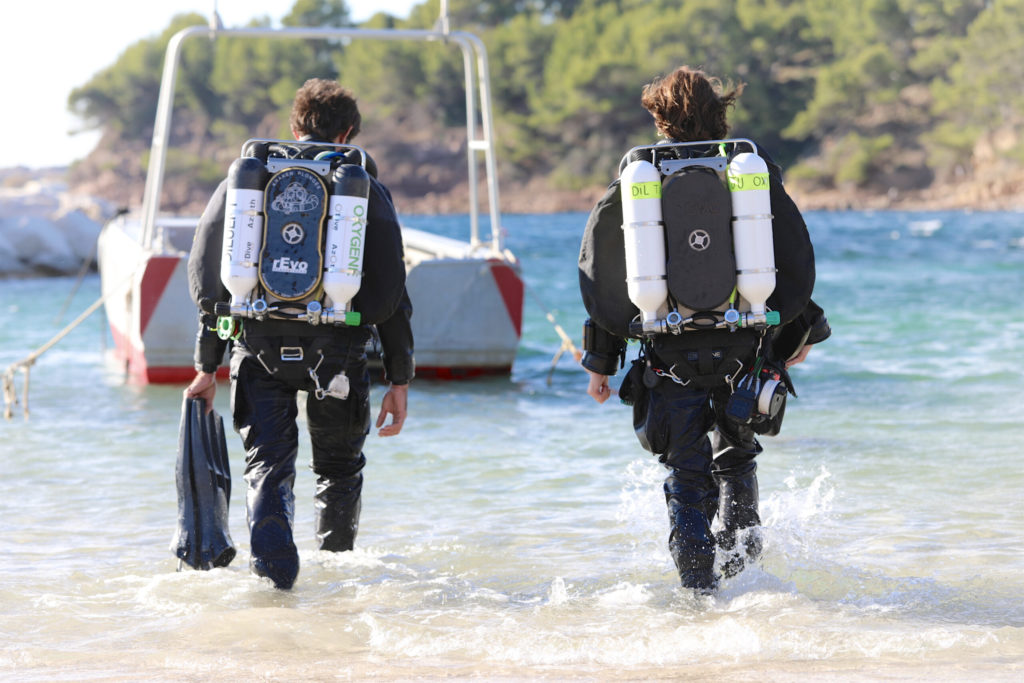 Mario Marconi is one of the most famous cave divers in Europe. He has led explorations and discovered new routes in the most important caves in Italy and France. Together with Jérôme Meyne he led the exploration of the Source du Saint Sauveur cave at -174 meters, in double CCR and in complete autonomy. The dive lasted 9 hours and 23 minutes. Together with two other explorers, he dived the wreck "Milano" in Lake Maggiore, reaching -241 meters. To date, this is the deepest human dive on a wreck.
Mario does not believe in exact science and standardization.
'With the collaboration of a doctor friend and, at the same time, a technical diver, I noticed that my decompression profiles were very far from scientific theories. But despite my aggressive profiles I wasn't entirely sure I wouldn't develop bubbles. I had also considered the possibility that I was asymptomatic.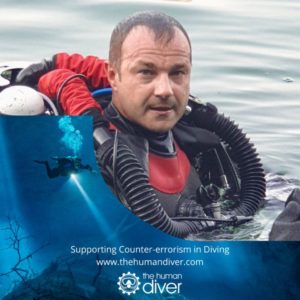 Some time ago I learned that Xavier Meniscus, one of the world's greatest cave divers, was using O'Dive. I immediately wrote to him asking if he had experienced a good feedback. After that I got in touch with Azoth System and quickly went through all the training necessary to become a user and instructor.
After the first dive, I was disappointed with the terrible outcome. I got a disastrous score, even though I felt great. Since then, I have been modifying one parameter at a time and have achieved a good profile.
By often diving with a stable profile, between 90 and 100 meters deep at the lake, I can change the parameters one at a time.
It's really a tool that gives real and immediate feedback to any diver. It is simple and intuitive.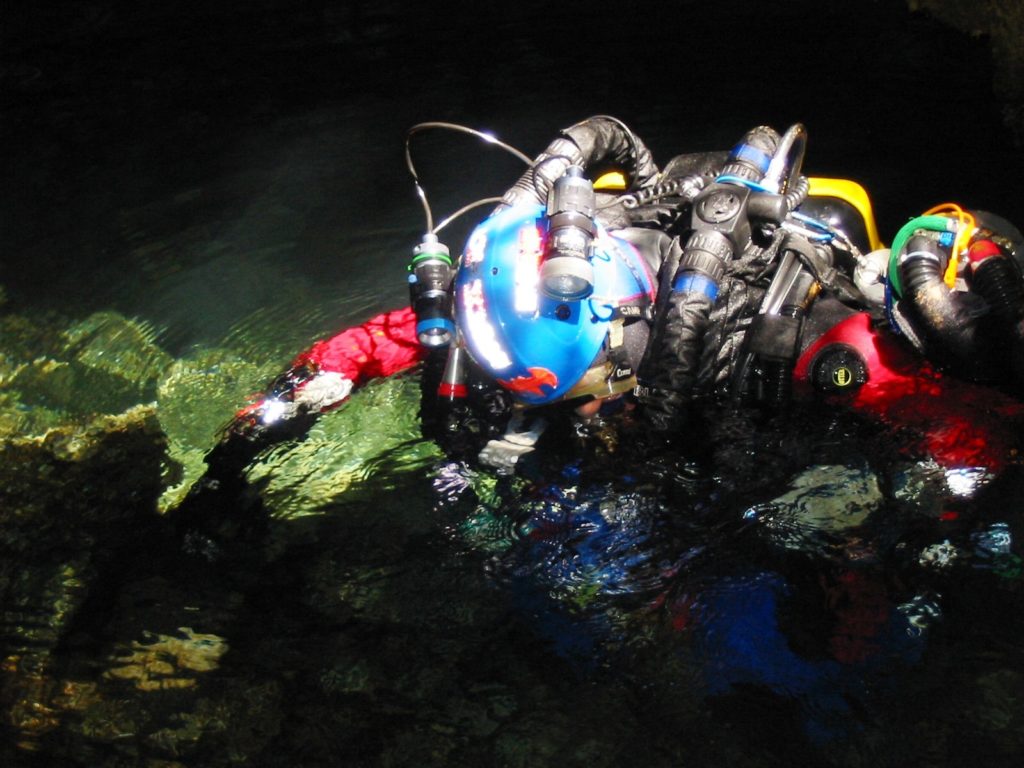 There is no one-size-fits-all setting for a dive computer, just as there is no guru who can tell us which decompression is best for us.
Technology and research can help us, but we have to do our part, trying to understand and think more and more with our heads.
Because everyone's goal remains that of making divers self-sufficient in the choices of setting up their dive computers. To elaborate decompression profiles based on environmental, physical and human conditions.